12/31/2018
FLOC 2009-2017
FLOC operated from 2009-2017.  Here is the historical record of all 8 years of operation.  FLOC has transformed into the Givsum Foundation.  More details here.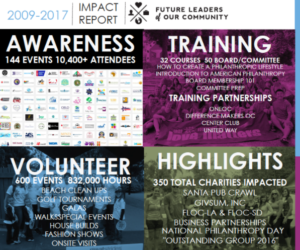 Dear FLOC Members and Friends,
After eight extraordinary years of local impact, Future Leaders of Our Community (FLOC) is ready to evolve.
Beginning in 2018, the Givsum Foundation will focus its efforts on becoming a nonprofit and social enterprise accelerator. The Givsum Foundation will vet new and exciting ideas for the local community, provide leadership training, fiscal sponsorships (which allows a new startup nonprofit to offer tax deductions to their donors), and seed funding for new ventures. In fact, we have already experienced great success with our pilot program sponsoring such new organizations as Fish For Life, Xanadu Foundation, Sol Collective, and the Miss Tustin Scholarship Association. In addition to functioning as an accelerator, the Givsum Foundation will continue to market young professional organizations through the Givsum platform, as well as assist in finding sponsorships for events and engagements.
The Givsum Foundation will operate from funds derived from individual donors, government grants, and sponsorships from Givsum, Inc.
Cheers,
Shawn Wehan, Founder and Executive Director