Back
2016 TOP OC Young Professional Organizations
Young Professional organizations are thriving in Orange County and each is focused on making the community a better place to live and work.  FLOC members cross-over between a number of YP orgs throughout the year in order to network, volunteer and find like-minded friends.  It's helpful to understand the nuances between the organizations and what each is focused on/offering.  Here's the 2016 top YP list!
Single Charity Focus
Review: Operating under the umbrella of the Make-A-Wish Foundation, this is a good hands-on YP org for learning how to impact a charity's mission/vision at the grassroots level of volunteering and fundraising.  Their are several fun networking events throughout the year and members host a signature fundraiser, "Rolling For Wishes" in June.
Mission: To have an active role in ensuring that every medically eligible child in Orange County and the Inland Empire receives a wish.
Description:  The Make-A-Wish® Orange County and the Inland Empire Young Professionals are a diverse group of young leaders under the age of 40 who are dedicated to supporting the mission of Make-A-Wish. Becoming a Young Professionals member is fun, rewarding, looks great on your résumé and puts you in a position to give back directly instead of watching from the sidelines.
Objectives: Members help promote Make-A-Wish by participating in and hosting events geared toward young professionals in order to increase awareness, encourage volunteerism and raise funds for the organization.
Next Event: June 24th, Rolling For Wishes
Review: A focused group of YPs dedicated to all things Raise Foundation.  Their annual "Summer Soiree" organized by the "Kids' Table" has garnered significant success and has proven a good breading ground for new board members.
Mission: The Kids' Table is a group of young professionals working with The Raise Foundation to help strengthen families. They believe that every child deserves to grow up in a safe and healthy home. They come to the table once a month on behalf of kids; planning fundraising events, basic needs drives and awareness campaigns to support the work that The Raise Foundation is doing in Orange County.
Objectives: Ongoing networking events and a signature event called "Summer Soiree."
Review: You may have heard about the Ronald McDonald House, but chances are you have no idea what they do.  This YP organization is your chance to learn and give back in a very direct, hands-on way.  Volunteer experiences take place onsite and involve significant interactions with the RMH guests.  In the process YPs develop friendship and significant community.
Mission/Description: Giving is what Red Shoe Society is all about! Giving of time, inspiration, creativity and raising funds to help the Orange County Ronald McDonald House provide a "home away from home" for seriously ill children and their families. This group offers its membership various ways to become involved with OCRMH. Members can directly make an impact on the lives of others and become leaders in our community.  Red Shoe Society members help to provide meals for the families staying at the Houses and host fundraising events throughout the year.
Objectives: Ongoing mixers, volunteer activities and fundraisers benefiting the Ronald McDonald House.
Next Event: February 24th at Kelley Blue Book
Review: This is a new YP org, but it's worth mentioning as Kendra Puryear, United Way's Director of Development, is amazing…and is leading this org exposing young professionals to the incredible work of United Way.  To get involved, contact Kendra below!
General Description: If you're a young professional under the age of 40 determined to create a stronger, healthier community, come together with the next generation of Orange County leaders in a meaningful way. By engaging, developing and empowering young professionals to address Orange County's toughest challenges in the areas of education, income, health, and housing, this passionate group of individuals bridges the gap between existing and future leaders. Our growing network of enthusiastic young professionals has joined hands to change the odds for children and families in our community. To learn more contact Kendra Puryear, Director of Development, 949-263-6154.
General Philanthropy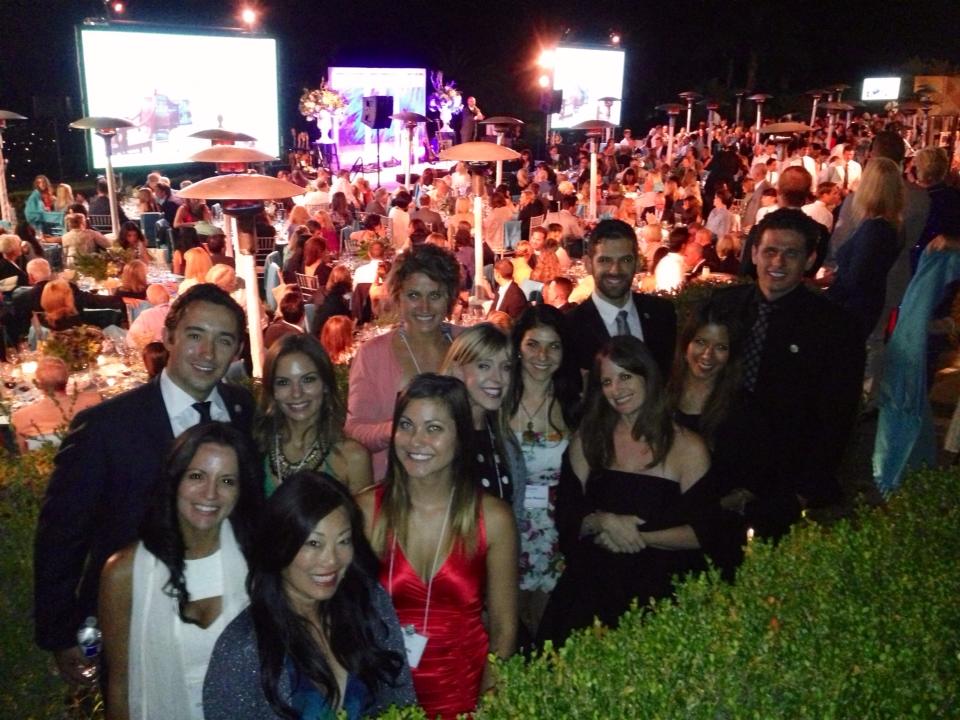 Review: Partnered with over 220 nonprofit organizations in Orange County, Future Leaders of Our Community's YPs are all about action, volunteering, fundraising and engagement.  FLOC is more of a launch pad than a home, as YPs get in-depth introductions to charities, receive leadership training in philanthropic techniques, and are provided endless opportunities to join nonprofit committees, boards, etc.  If you are looking for hands-on experiences and a good overview of the OC philanthropic environment, then FLOC is definitely the place to start.
Mission/Vision: To inspire those with a passion for their community to become the Future Leaders.  FLOC is a membership-driven organization that brings awareness, inspiration and participation opportunities to young professionals in our community. Through unique programming with local non-profits, businesses, public officials and thought leaders; FLOC impacts its members with passion and commitment for the community.

Objectives: 12 Monthly Awareness Events, 4 Leadership Trainings & Ongoing Volunteer Opportunities.
Next Event: February 25th at Mozambique in Laguna.  Featuring Child Guidance Center.
Business Networking with Philanthropy
Review: By far the largest YP organization in Orange County focused on business networking, advancement and philanthropy. Made up of some of the most engaged individuals in Orange County, the group hosts monthly "Schmoozers" and fundraisers for local OC charities.  Their signature Newport Harbor Cruise is a blast and also benefits local nonprofit.  If you haven't been to an EliteOC event yet, you're missing out.  Get on it and network with some of the best in OC!
General Description: The Elite OC was created to bring young professionals together to network and give back to the local community.
Mission: Moving young professionals forward by creating meaningful business relationships that serve the greater needs of our community.
Objectives: Monthly Schmoozers, Business Trainings and annual Newport Harbor Cruise.
Next Event: February 18, Twenty Eight Restaurant and Lounge
Review: Operating under the umbrella of the Irvine Chamber of Commerce, this YP org offers a unique experiences to launch into the business world while having the support of friends and colleagues at the Chamber.   EP Members also support local charities engaged with the Chamber and host regular mixers to bring greater awareness to the benefiting charities.
Description: The Emerging Professionals group in the Irvine Chamber strives to develop those looking to climb the professional ladder through networking, philanthropic and learning opportunities. Though it is a group that was formed with the mindset of helping younger professionals find their footing in their respective careers, the EP Group provides benefits for professionals in career transitions and/or someone looking to continue to hone their business and networking skills.
Objectives: Bi-monthly after-hour mixers and multiple lunch & learns throughout the year.
Review: This invite only YP (and beyond) org is extraordinary in both their impact and growth throughout the US.  Founded in Orange County, the organization has expanded chapters to San Diego, Los Angeles, Seattle, New York and Arizona.  Made up of some of the most forward thinking entrepreneurs and thought leaders of our day, the organization is working hard to impact and safeguard the next generation of Americans through a focused effort in education, national security and economics.  Philanthropic funds are directed through their own GenNext Foundation and distributed to NGOs around the world.
Mission: Gen Next is an invitation-only organization of successful individuals dedicated to learning about and becoming engaged with the most pressing challenges facing future generations. With the collective influence of its national network of Members, Gen Next aims to ensure anyone can achieve success by expanding the opportunities that await them.
Objectives: Ongoing informative events, meetings, trips and experiences.
Review: Modeling itself as an alternative to YPO, this exclusive invite only group takes pride in giving back to the community through multiple fundraising events which in the past have benefited the Cystic Fibrosis Foundation, Big Brothers Big Sisters, Ronald McDonald House, Boys Town and Think Together.  The members are well known and active in the OC community.  Say yes if you get the invite!
Mission: Philanthropy with a focus on making a real and tangible difference in Our community. Developing Leaders through education, mentorship, and the mutual support between Members.  Creating the next generation of ambassadors Promoting Business Growth.  Forming The Most Influential Network of future business and community leaders.
Objectives: OCYE strives to equip its Members to progress toward profound leadership – not only in our own businesses, but also to effect positive changes in our community. We are a collection of established business professionals, executives and entrepreneurs who believe in the value and strength of community.  OCYE uses education, mentorship and mutual support between Members to promote successful, positive and influential business and community leaders.
Next Event: The State of the Market, March 3rd, Marriott Hotel
Skill Based with Philanthropy
Review: A very fun YP org that meets monthly throughout the year for Thirsty Thursdays and then puts all their creative talent into one big 54 hour marketing make-over for a local/national charity.  This is a cool group to hang with if you're interested in graphic design, photography, techie stuff or just like hanging out with creative people.
Mission: Revamp marketing and branding efforts of a non-profit organization during the course of 54 hours.
Description: A collaborative, weekend-long marketing experience where advertisers, designers, developers, creatives, professionals and students converge to donate their time and talents to create, inspire, and help great causes.  During each high-energy, 54-hour event, our expert creative teams adopt a non-profit organization and work together to totally revamp their marketing and branding efforts.
Next Event: February 25th, Saddle Ranch Chop House