ExplorOcean
---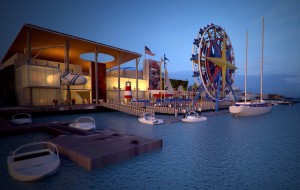 ExplorOcean is a nonprofit organization dedicated to educating K-12 students about the seven principals of Ocean Literacy.
LOCATION
We are located at 600 East Bay Avenue, Newport Beach California 92661 and operate a 33,500 Sq. Ft. facility in addition to a 25,000 sq. ft. commercial marina. We also offer several boardwalk rides including the world's only outdoor Mechanical Bull Shark Ride, an endless water slide ride called "Fish Pipe" and a bungee trampoline ride called "Ocean Motion" owned and operated by our wholly owned subsidiary Fun Zone Entertainment.
GOAL
ExplorOcean will become America's premiere Ocean Literacy Center featuring Science, Technology, Engineering and Math based educational experiences for people of all ages to learn about the ocean. ExplorOcean will become Newport Beach's premiere ocean themed Cultural Institution.
ATTENDANCE
Newport draws 8,000,000 people annually and 2,000,000 of those walk on our Boardwalk adjacent to the harbor. Our galleries receive tens of thousands of visitors every year.
EXHIBITIONS
Ocean Literacy Center – K-12 students learn about the ocean through hands on experiments and activities designed by our Director of Education, Dr. Wendy Marshall. ExplorOcean Adventure Outpost – Features 2010 National Geographic Adventurer of the Year Roz Savage's around the world ocean rowboat.  Here people learn about Roz's extraordinary adventure of rowing solo across three oceans and the challenges she overcame in her five year voyage. Steele Model Pavilion – A gift of the Richard Steel Foundation, this exhibition features historical Ships of War from Europe and the Far East.  The collection features fine examples of the craft plying the high seas and includes beautiful ship models made of whale bones by prisoners of war from the time period. ExplorOcean Newport Beach California Preview Center – This 800 square foot room offers architectural renderings of our Campaign plans to redevelop the entire building, boardwalk and waterfront by 2018.  Visitors can see a physical model of the new building scheduled to open in 2018 and an informational video about the project.
Visit the "ExplorOcean" website